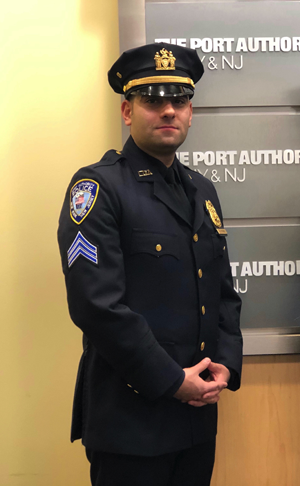 March 2020
Dear Chapters, Associate Members, Families and Friends of Shomrim:
As you are all aware, the President has declared a national emergency due to the spread of the coronavirus in the United States. It has hit especially hard in several areas, resulting in people who have contracted this illness to begin to self quarantine or to report to local hospitals for treatment and isolation. This is an unprecedented incident in our country, forcing all of us to change our lifestyles in ways that we would have never thought possible. I want to reinforce all the guidance and instructions that we have been given by medical professionals to take all the precautions necessary to prevent contracting this illness. For a list of these precautions as well as symptoms of the coronavirus please visit the website for the Center for Disease Control at www.cdc.gov. If anyone feels they might have this illness, I urge you to seek medical attention immediately. And of course it bears repeating – if you are sick, with the coronavirus or with any other illness, please stay home and take care of yourself.
This emergency has also begun to disrupt our National Shomrim and chapter activities. Several chapters have cancelled or postponed events, and several others are planning to do the same. These tough decisions have been done out of an abundance of caution and to prevent members from coming into contact with anyone who might have the coronavirus or to spread it to anyone attending events. Below is a list of events that have been cancelled or postponed:
The South Florida Shomrim BBQ on Sunday, March 22, 2020, at C.B. Smith Park in Pembroke Pines has been cancelled. They will hold it sometime later on this year. They are instead asking for donations of gift cards, clothing and other necessities for Children's Harbor, an organization that provides safe shelter and support to at-risk children and youths, keeping brothers and sisters together, strengthening families and guiding youths towards independence. Please contact them directly at www.childrensharbor.org.
Shomrim of Illinois has cancelled their membership meeting on Wednesday, March 18, 2020 at 7:15 p.m. and their breakfast meeting on Sunday, April 5, 2020 at the Bernard Horwich JCC in Chicago. These will be rescheduled at a later date.
Nassau Shomrim has cancelled their Board and General Membership Meeting on Thursday, March 26, 2020 at Congregation Ohav Shalom in Merrick, NY. Their President Gary Koffsky advises they are considering cancelling their upcoming Passover Food Drive on Sunday, April 5, 2020, a hard decision because they don't want to leave the needy Jews in Nassau County without essential food for Passover. They might instead distribute gift cards to those people in need. Please contact them directly at nassaushomrim@gmail.com or Cheryl Garber at cher18@optinline.net if you were planning on volunteering for this annual event or to donate gift cards.
NYPD Shomrim has postponed their annual dinner dance on Thursday, April 2, 2020, at Da Mikele Illagio in Queens, NY, and will reschedule it for a future date. They have also cancelled their Annual Rabbi Jack Sable Passover Packaging and Distribution. The packaging was scheduled for Friday, April 2, 2020, and the distribution was to be held on Sunday, April 5, 2020, in the community room of 477 FDR Drive. NYPD Shomrim President Gary Marcus has advised that cancelling the Passover Distribution was a very difficult decision, as it is one of their finest moments for giving tzedekah, Passover food, to needy Jews in New York City. The recipients of these packages are mostly elderly and in the vulnerable category. Gary is asking instead for donations earmarked for the Passover distribution be sent to Philip Weisbord, 75-24 Bell Blvd., Apt. 1C, Oakland Gardens, NY 11364. You can also call Philip at (917) 974-2659 for more information.
The NYPD Shomrim and Shomrim of Illinois trip to Israel has been rescheduled. The new dates are October 18 thru 29, 2020. This is, of course, pending the status of the coronavirus and the restrictions Israel has placed on visitors entering the country. Anyone that had planned to take this annual trip must contact the organizers, Sam Miller at (347) 723-6709, Elliot Cohen at (847) 778-7272, or Gordon Nash in Florida at (561) 632-7764.These chapter activities are still being held but attendees must contact the chapters directly to confirm they will take place:
Shomrim of Northern California is planning a Passover Seder for April 11, 2020. For information please contact them directly at vadim.rotberg@norcalshomrim.org.
FDNY Ner Tamid Society will be having a Holocaust Memorial Service on Wednesday, April 22, 2020, from 4:30 p.m. to 6:30 p.m. at the Museum of Jewish Heritage in Battery Park City in New York City. There will be a memorial service, and attendees will be able to visit the museum. Refreshments will be served. Please RSVP to Barton Fendelman at fendelmanb@gmail.com to confirm this will take place.
Shomrim of D. C. is planning the Annual Kaddish service that will take place during National Police Memorial Week, scheduled during May 13 to 15, 2020. The Kaddish service will take place on Tuesday, May 14, 2020, at 9:00 a.m. at the NLEOM, the 400 block of E Street NW. Immediately after there will be a brunch at the DC FOP Lodge #1, 711 4th Street NY, in the banquet hall on the second floor. National Shomrim and many chapters always send a delegation to commemorate and honor the memory of those police officers who gave their lives in the service of their communities, so please join them for this important annual event. Once again, if any portion of or all of National Police Week is cancelled, we will advise all chapters.
Regarding National Shomrim's participation in the Celebrate Israel Parade on Sunday, June 7, 2020 in New York City: if we are told with enough notice that the Parade is cancelled we will notify our members, especially those who fly into New York specifically to march with us so they can change their travel plans.
I also want to assure all our members and friends who are planning on attending the National Shomrim Convention on the Celebrity Edge cruise ship in January 2021 that myself and convention co-chairpersons Marty Turetzky and Murray Ellman are in regular communication with our cruise planner Tony Lostumbo about our Convention. Although it is many months away, I am pleased to report that we have had no cancellations for the Convention. We are still planning this great event and will continue to do so until there is a reason for us to cancel it. If that happens, we will immediately notify all attendees and will make alternate plans for our convention.
As first responders, whether as police officers, fire fighters, EMTs, 911 operators, or keeping essential services operational, we have all been trained to respond to emergencies and prioritize the nature of the event. We are, as always, the front line for the public and are directly in the path of this outbreak. Please take all precautions necessary to keep yourselves safe and healthy. If your department or agency has provided you with gloves, masks, hand sanitizers, alcohol, disinfectant spray and other items that will help keep you safe during this outbreak, please carry them with you during your tour. You absolutely do not want to bring this virus into your homes, where there are pregnant women, babies or small children, the elderly or family members with compromised or sensitive immune systems. We want all of you healthy and happy so we can enjoy our Shomrim activities all together for many years to come.
I can't help but make the comparison to Passover coming up in a few weeks. As we sit at our Seders and recite the ten plagues that G-d brought onto the Egyptians, it seems that we have a modern day plague that is sweeping our country and the world. Whatever the message is that G-d is sending us, let's spread hope and kindness, smiles and laughter. As Jews we are taught that doing mitzvahs is the greatest act we can perform. This is the time to look out for each other, our neighbors and our friends and offer any help we can. May the Almighty heal those who are currently battling the coronavirus, bring a vaccine to all of us soon, and end this illness as quickly as it started. And when you wash your hands, remember whose hands you're in!
Wishing you all a happy and healthy Passover!
Henri Portner
President