Produced and Submitted by Betty Astrizky, Corresponding Secretary, National Conference of Shomrim Societies
NATIONAL SHOMRIM NEWS AND INFORMATION
It was a great day for a parade when National Shomrim marched up Fifth Avenue in New York City for the annual Celebrate Israel Parade on Sunday, June 4th. Representatives from Port Authority Shomrim, FDNY Ner Tamid Society, NYPD Shomrim, Nassau Shomrim, Empire State Shomrim, Shomrim Society of the NYS Court Officers, Macabee Society, their families, friends and many others were cheered on as they proudly showed off antique fire trucks, modern day department vehicles, the largest delegation of uniformed and civilian Jewish police officers, fire fighters, court and corrections officers, and much more! Make your plans for next year, it's never too early! To view the parade, and a snippet of one of the antique fire trucks supplied by the FDNY Ner Tamid Society, please go to celebrateisraelny.org, click on "View the Parade," and at the 3:32 minute mark you will see it going by with the children of Shomrim members who always love to climb on board!
The first half of 2017 has gone by quickly, and with warm summer days ahead we are still making plans for the 2018 National Shomrim convention. It is selling out fast, and those who have attended previous conventions always say it's a great time, meeting Shomrim members from across the country, sharing ideas and trading stories. National Shomrim will be sailing on the beautiful Celebrity Silhouette the week of January 7, 2018, from Ft. Lauderdale, Florida and will stop in the Western Caribbean ports of Key West, Costa Maya, Cozumel and Grand Cayman. Staterooms range from $739.00 per person for an inside cabin to $1134.00 per person for an deluxe oceanview veranda (additional $129.14 per person for taxes). All attendees will receive $50.00 group amenity per cabin. There are other amenities as well, and a fully refundable deposit of $300.00 is all that is needed to hold a cabin until October 1, 2017. Please contact our National Shomrim cruise planner, Tony Lostumbo, at (954) 384-7245 or email at tony@cruiseplannersone.com. We are always on the lookout for speakers to present topics of importance and interest to our members, including law enforcement, health and safety, and historical experiences, so if you're attending and would like to present a short lecture, please let us know and we'll put you on the agenda.
CHAPTER NEWS AND INFORMATION
The deadline to apply for the Port Authority Police is fast approaching. The open application period closes on June 26, 2017. Please go to their website, www.panynj.gov for information on how to become a member of one of the most historic law enforcement agencies in the New York area. If you have specific questions on the Port Authority Police you can contact Port Authority Shomrim President Lt. Scot Pomerantz at president@panynjshomrim.org or Port Authority Shomrim Board Member Henri Portner at henrijp@aol.com. In addition, there are job opportunities within the Port Authority for skilled trades, including electricians, HVAC/Utility Systems Maintainers, and Stationary/Watch Engineers. All opportunities have the potential for unlimited career advancement, comprehensive health benefits including enrollment in the NYS Pension System, and the opportunity to work in some of the most famous and iconic facilities in the world. The majority of these positions are represented. Visit www.jointheportauthority.com and see "Positions at the PA" section to view all career opportunities.
The Shomrim Society of the New York State Court Officers advises there is an open competitive exam for the position of Court Assistant. The filing deadline in July 5, 2017, and there is a non refundable fee of $30.00, which must be filed electronically, to www.nycourts.gov/careers. There is also a Sabbath Observer accommodation, no age limit and although it is considered an entry level position, it can lead to future examination based promotional opportunities. For further information please contact their president Norman Turenshine at normturenshine@gmail.com or their Vice President Sam Achtman at rrrs@optonline.net or Michael Stein at mstein@courts.state.NY.US.
South Florida Shomrim Society advises that the Miami-Dade Police Department is now accepting applications for Public Service Aide (Trainee). To apply please visit their website www.miamidade.gov/police/careers.asp.
The NYPD Shomrim Society has two events that everyone should make plans to attend:
Friday, June 23, 2017 – The Oneg Shabbat at the East Midwood Jewish Center, 1625 Ocean Avenue between Avenues K and L, Brooklyn, NY. This spiritually uplifting Friday night service, presided by NYPD Shomrim Society Chaplain Rabbi Dr. Alvin Kass, is followed by a tradition and delicious glatt kosher Shabbos dinner for $30.00 per person (children 6 to 12 $15.00) Please contact Steven Litwin at (718) 207-0064 to make your reservations.
Thursday, June 29, 2017 – The Annual NYPD Shomrim Society Cigar Night at the Varuna Boat Club, 2806 Emmons Avenue, Brooklyn, NY. This event begins at 1800 and for $115.00 in advance ($125.00 at the door) guests enjoy cigars, an open bar and a deluxe, all you can eat glatt kosher bbq. Please send your check to Michael Podber, 87-28 254th Street, Bellerose, NY 11426, or contact NYPD Shomrim President Joe Cohen at president@nypdshomrim.org.
The Shomrim Society of Illinois has a full slate of activities coming up as well, so please mark your calendars:
– General Membership meeting on Tuesday, June 20, 2017, at 7:30 p.m. at the Bernard Horwich JCC, 3003 W. Touhy Avenue, Chicago, IL. Light refreshments will be served. Anyone wishing to attend should contact Shomrim of Illinois President Marc Buslik at mbuslik@earthlink.net.
– Their Annual Cookout on Sunday, July 30, 2017 from Noon to 4:00 p.m. at the Apachi Day Camp, 3050 Woodridge Lane, Northbrook, IL. There will be lots of food and fun, so if you'd like to attend please contact their president, Marc Buslik, at mbuslik@earthlink.net.
– The Shomrim Society of Illinois annual dinner on Sunday, September 17, 2017 at the Crown Plaza Hotel, 733 W. Madison, Chicago, Illinois, beginning at 6:00 p.m. They will be honoring Sgt. Brian Berkowitz as their Police Officer of the Year, who was recently honored by the Chicago Fire Dept. Amy Stoker, Director of the Chicago Branch of the American Jewish Congress, will also be honored at their dinner. Tickets are $100.00 per person, and anyone wishing to attend should contact David Appel at DApple9029@hotmail.com, or you can call him at (312) 493-6964, or Bruce Rottner at Bruce.Rottner@gmail.com. Proceeds of the dinner will go to the American Jewish Congress and the Shomrim Society Endowment Fund.
On Sunday, September 17, 2017, at 2:00 p.m., Shomrim of Maryland will hold a memorial service for their fallen member Ira Weiner at Oheb Shalom Memorial Park. It will be 25 years since Baltimore Police Officer Ira Weiner was assaulted and shot in the line of duty, succumbing to his injuries two days later. Please join Shomrim of Maryland for a special memorial service at the cemetery, which is located at the intersection of Nicodemus Road and Berryman's Lane in Reistertown. For information please contact their president Jeremy Silbert at silbert@shomrimmd.org.
ATTENTION ALL NEW YORK STATE MEMBERS! VOTE NO TO OPENING THE CONSTITUTIONAL CONVENTION IN NEW YORK STATE!
Spread the word to all your family, friends and coworkers who live and work in New York State – Governor Andrew Cuomo wants to get his hands on public pensions by opening the New York Constitutional Convention. Every twenty years a provision in the New York State Constitution allows for the opening of a constitutional convention, which contains wording that can affect free public education, collective bargaining, workers compensations and environmental protections. Article 5, Section 7 of the New York State Constitutions protects public pensions, but it can possibly be voted out if the Constitutional Convention is opened. Please tell all voters registered in New York State to vote "NO" to opening the Constitutional Convention in the upcoming November election.
MEMBER NEWS AND INFORMATION
An associate member of the FDNY Ner Tamid Society, Matthew Braunshweiger, has requested that anyone who is willing to donate a kidney to his father, Alan Braunshweiger, who is in the end stage of kidney disease, please contact him to perform this incredible mitzvah. The donor must be blood type A or O. If anyone would like to help please contact Renewal (www.renewal.org), a non profit organization that matches donors with patients in need. The phone number is (718) 431-9831 or you can email them at R23227@renewal.org.
Members are also asked to keep Kelly Thomson, wife of Shomrim of Northern California member Eric Thomson, in their prayers as well as she also battles a serious illness. We all wish Kelly a quick, complete and speedy recovery.
Mazal Tov to Shomrim of Illinois members Judge Megan Goldish and Matt Savage on their recent engagement.
Once again, Port Authority Shomrim Board Member Eric Stern to the rescue! P.O. Stern and his fellow officers Frank Pareo and Donger Mel saved a 67 year old male who went into cardiac arrest at the jetBlue Terminal at JFK Airport. They administered a portable defibrillator twice, shocking the man back to life. Their heroic efforts were featured in the New York Daily News.
It is with sadness that we must report the passing of:
Eva Miller, the mother of President Emeritus Elliot Miller of Empire State Shomrim Society
Gerald Yamin, a member of Shomrim of Maryland and the father of their organization's Vice President Gary Yamin
May their souls have the highest of aliyahs and may their memories be a blessing to their families. Blessed is the true judge.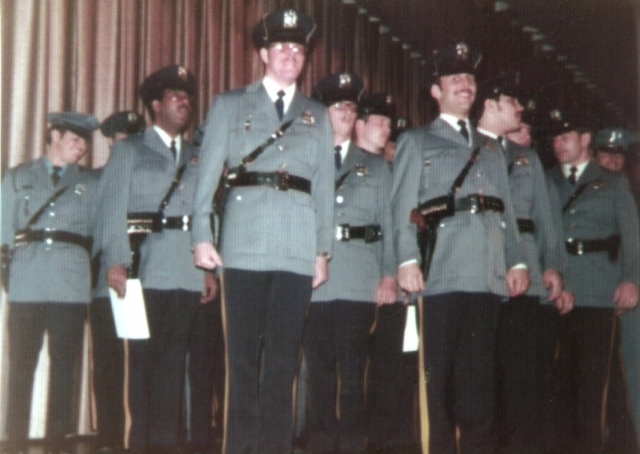 Can you name the recruit in this picture? No cheating! You can find the answer on our Facebook page on Monday, June 12th!
Here are some pictures of the dinner that was held recently for Shomrim of Philadelphia member Bob Clearfield. Many people came together to wish Bob well. National Shomrim President Larry Wein, along with members of NYPD Shomrim, Port Authority Shomrim, Nassau Shomrim and Shomrim of D.C. joined Shomrim of Philadelphia President Howard Lebofsky and their members to let Bob know that he is not alone and that we will all continue to pray for him to have a quick, complete and speedy recovery. Please continue to daven for Bob, hebrew name Rachmeal ben Yehudit. He would also love to hear from his friends in Shomrim, his email address is BClearfield@comcast.net.
CHAPTER PRESIDENTS! All chapters are reminded that $100 dues for 2017 should be sent in as soon as possible. It is important so that your chapter remain current so you can have voting rights at upcoming meetings.
ASSOCIATE MEMBERS! Please send in your dues of $18.00 for 2017. Your membership is especially important to our organization, as you are our link to areas where there is a minimal or nonexistent Jewish population. We are always looking forward to meeting you at any of our upcoming events.
All dues should be mailed to National Shomrim Treasurer Marty Turetzky,
264 East Broadway, C1905, New York, NY 10002.